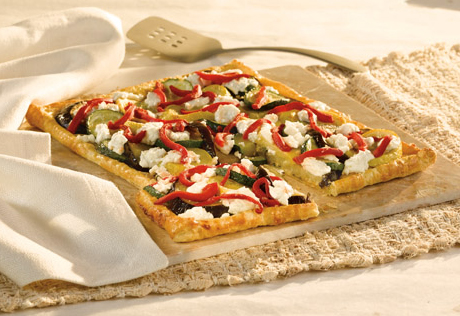 Ingredients & Directions
1 egg
1 tablespoon water
1/2 of a 17.3 ounce package Pepperidge Farm® Puff Pastry Sheets(1 sheet), thawed according to package directions
3 tablespoons olive oil
2 teaspoons chopped garlic
1 baby eggplant, cut diagonally in 1/2-inch thick slices
1 large zucchini, cut diagonally in 1/2-inch thick slices
1 large yellow squash, cut diagonally in 1/2-inch thick slices
1 tablespoon basil pesto
4 ounces goat cheese, crumbled
1 roasted red bell pepper, cut into thin strips
Heat the oven to 400°F. Lightly grease or line a baking sheet with parchment paper. Beat the egg and water in a small bowl with a fork.
Unfold the pastry sheet on a lightly floured surface. Roll the pastry into a 13 x 11-inch rectangle. Place the pastry on the prepared baking sheet. Brush the edges of the pastry with the egg mixture. Fold over the edges 1/2 inch on all sides, pressing firmly with a fork to form a rim. Prick the pastry thoroughly with a fork. Refrigerate for 30 minutes.
Stir the oil and garlic in a small bowl. Place the eggplant, zucchini and squash in a single layer on a shallow-sided pan. Brush the vegetables with half of the oil mixture. Turn the vegetables over and brush with the remaining oil mixture. Season to taste. Bake the vegetables for 4 minutes, turning halfway through baking. Cool the vegetables slightly.
Spread the pesto on the pastry. Arrange the vegetables alternately in rows on the pastry. Sprinkle with the cheese.
Bake for 20 minutes or until the pastry is golden brown. Sprinkle with the red pepper strips and serve immediately.
Tips
Recipe Note: Parchment paper keeps the pastry from sticking to the baking sheet and also makes for easier cleanup. If you don't have parchment paper, you can spray the baking sheet with cooking spray instead. However, cooking spray may cause the bottoms of the pastries to brown more quickly, so begin checking for doneness 5 minutes early.