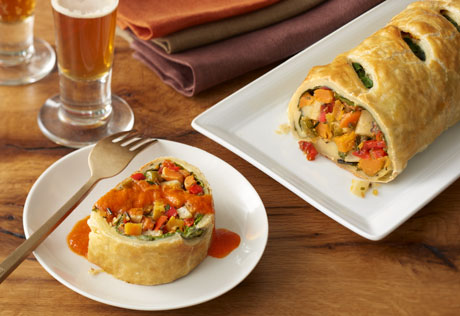 Ingredients & Directions
2 cups coarsely chopped green pepperand/or red bell peppers
2 cups coarsely chopped carrotand/or parsnips
1 cup coarsely chopped turnip
2 cups coarsely chopped butternut squash
1 clove garlic, minced
1 tablespoon chopped fresh rosemary leaves
1 tablespoon chopped fresh thyme leaves
1 tablespoon chopped fresh oregano leaves
1/2 cup olive oil
1/2 of a 17.3-ounce package Pepperidge Farm® Puff Pastry Sheets(1 sheet), thawed
1 egg, beaten
8 leaves fresh Swiss chardor spinach
1 jar (12 ounces) roasted red bell pepper, drained
1/2 cup Swanson® Chicken Broth
1 tablespoon olive oil
Heat the oven to 400°F.  Place the vegetables, garlic, rosemary, thyme and oregano onto a rimmed baking sheet.  Drizzle with 1/2 cup olive oil and toss to coat.
Roast for 25 minutes or until the vegetables are tender.  Let the vegetables cool on the baking sheet on a wire rack.
Unfold the pastry sheet on a lightly floured surface.  Roll the pastry sheet into a 16x10-inch rectangle.  Brush the pastry sheet with the egg.
With the short side facing you, arrange the Swiss chard leaves on the bottom half of the pastry to within 1 inch of the edge.  Top with the roasted vegetable mixture.  Starting at the short side, roll up like a jelly roll.  Place the pastry, seam-side down, onto a baking sheet.  Tuck the ends under to seal.  Brush the pastry with the egg.  Cut several slits in the top of the pastry.
Bake for 20 minutes or until the pastry is golden brown.  Let the pastry cool on the baking sheet on a wire rack for 30 minutes.
Pour the roasted red peppers, broth and 1 tablespoon olive oil into a blender or food processor. Cover and blend until the mixture is smooth.  Pour into a 2-quart saucepan and cook and over medium heat until the mixture is hot and bubbling. Slice the strudel and serve the red pepper mixture.