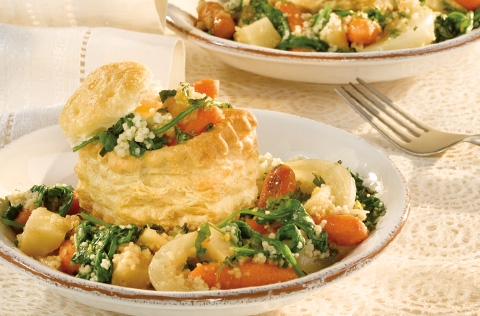 Ingredients & Directions
1 package (10 ounces) Pepperidge Farm® Puff Pastry Shells, prepared according to package directions
1 package  (16 ounces) whole peeled baby carrots
1  large onion, cut into 8 wedges
1 cup  peeled diced parsnip (about 2 parsnips)
4 cloves garlic, minced
2 tablespoons olive oil
2 cups Swanson® Vegetable Broth or Swanson® Certified Organic Vegetable Broth
0.333 cup uncooked couscous
1 bag  (7 ounce) baby arugula
2 tablespoons lemon zest
2 tablespoons  chopped fresh parsley
Heat the oven to 425°F.
Place the carrots, onion, parsnips and garlic into a large bowl.  Drizzle with the oil and toss to coat.  Spoon the vegetable mixture onto a rimmed baking sheet.
Roast for 25 minutes or until the vegetables are tender, stirring occasionally.

Spoon the vegetable mixture into a 3-quart saucepan.  Stir in the broth and heat over medium-high heat to a boil.  Stir in the couscous.  Reduce the heat to low.  Cook for 3 minutes.  Stir in the arugula.  Cook for 2 minutes or until the couscous is tender and the arugula is wilted.
Divide the vegetable mixture among the pastry shells.  Sprinkle with the lemon zest and parsley. Serve immediately.