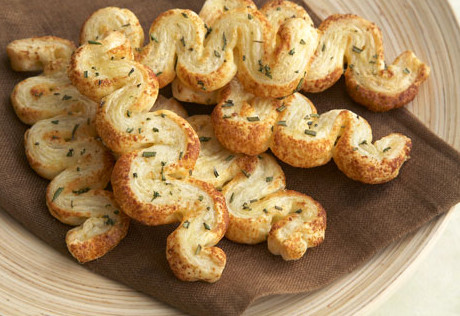 Ingredients & Directions
1/4 cup grated romano cheese
1/2 of a 17.3-ounce package Pepperidge Farm® Puff Pastry Sheets(1 sheet), thawed
2 tablespoons chopped fresh rosemary leaves
18 wooden skewers(8-inch)
Heat the oven to 400°F.

Sprinkle a work surface with 2 tablespoons cheese.  Unfold the pastry sheet on another the work surface.  Brush the pastry sheet with water.  Place the pastry sheet, wet-side down, onto the cheese.  Brush the pastry sheet with water.  Sprinkle with the remaining cheese and rosemary.  Press the cheese mixture lightly into the surface of the pastry with a rolling pin.
Cut the pastry sheet crosswise into 18 (1/2-inch) strips.  Thread the pastry strips accordion-style on the skewers.  Place the skewers onto 2 baking sheets.

Bake for 15 minutes or until the pastries are golden brown.  Let the pastries cool on wire racks for 2 minutes.  Carefully remove the skewers from the pastries.

Tips
Serving Suggestion: For a unique presentation, you can leave the pastries on the skewers and stand them in a pretty vase or glass.