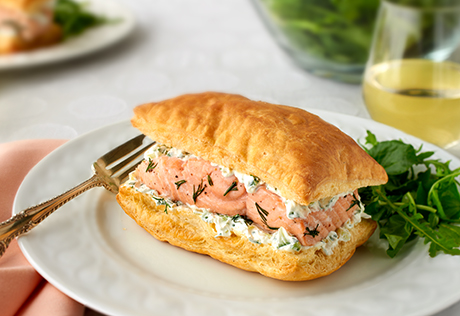 Ingredients & Directions
3/4 cup sour cream or plain yogurt
1/2 cup chopped cucumber
3 tablespoons chopped fresh fresh dill weed or 1 tablespoon dried dill weed, crushed
2 tablespoons all-purpose flour
1/2 of a 17.3-ounce package Pepperidge Farm® Puff Pastry Sheets(1 sheet), thawed
1.75 cups Swanson® Chicken Broth or Swanson® Certified Organic Chicken Broth
Swanson® Natural Goodness® Chicken Broth
1/4 cup chablis wine or other dry white wine
1/4 teaspoon ground black pepper
1.5 pounds salmon fillet, 1-inch thick (about 6 fillets)
Heat the oven to 400°F.  Stir the sour cream, cucumber and 2 tablespoons dill weed in a small bowl.  Cover and refrigerate.
Sprinkle the flour on the work surface.  Unfold the pastry sheet on the work surface. Cut the pastry sheet into 3 strips along the fold marks. Cut each strip into 2 rectangles. Place the pastry rectangles onto a baking sheet.
Bake for 15 minutes or until the pastries are golden brown.  Let the pastries cool on the baking sheet on a wire rack for 10 minutes.  Split each pastry into 2 layers, making 12 layers in all.

Heat the broth, wine, black pepper and remaining dill weed in a 10-inch skillet over medium heat to a boil. Add the fish to the skillet.  Reduce the heat to low.  Cover and cook for 10 minutes or until the fish flakes easily when tested with a fork.  Season the fish with salt and additional black pepper.
Spread 1 heaping tablespoon sour cream mixture on each of 6 bottom pastry layers. Top each with 1 fillet fish, 1 heaping tablespoon sour cream mixture and a top pastry layer. Discard the broth mixture.