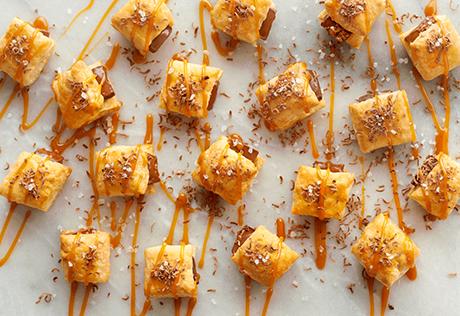 Ingredients & Directions
6.2 ounces milk chocolate(4 bars each 1.55 ounces)
2 tablespoons all-purpose flour
1/2 of a 17.3-ounce package Pepperidge Farm® Puff Pastry Sheets(1 sheet), thawed
3/4 cup caramel topping
2 teaspoons kosher saltor sea salt
Heat the oven to 400°F.  Line a baking sheet with parchment paper.  Break 3 bars chocolate into 12 sections each.  Grate 1/3 cup chocolate from the remaining bar.

Sprinkle the flour on the work surface.  Unfold the pastry sheet on the work surface.  Cut the pastry sheet along the fold marks into 3 strips.  Cut each pastry strip crosswise into 6 rectangles.  Cut each rectangle in half, making 36 (about 1 1/2-inch) squares.  Place the pastry squares onto the baking sheet.

Bake for 15 minutes or until the pastries are golden brown.  Remove the pastries from the oven.  Using a sharp knife, cut a slit in the side of each hot pastry.  Stuff each hot pastry with 1 chocolate section, pressing it through the slit in the side of the pastry into the center.

Sprinkle the pastries with the grated chocolate.  Drizzle each with about 1 teaspoon caramel topping and sprinkle with a dash of salt.

Tips
Recipe Note: Parchment paper keeps the pastry from sticking to the baking sheet and also makes for easier cleanup. If you don't have parchment paper, you can spray the baking sheet with cooking spray instead. However, cooking spray may cause the bottoms of the pastries to brown more quickly, so begin checking for doneness 5 minutes early.