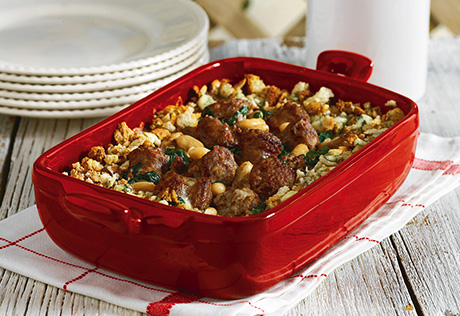 Ingredients & Directions
1 pound sweet or hot Italian pork sausage, cut into 1-inch pieces
1/2 pound ground beef
1 small onion, chopped (about 1/4 cup)
1 bag (about 6 ounces) fresh baby spinach
1 can (10 1/2 ounces) Campbell's® Condensed Cream of Mushroom Soup or (10 1/2 ounces) Campbell's® Condensed 98% Fat Free Cream of Mushroom Soup
1/4 cup milk
1 can (about 15 ounces) white cannellini beans, rinsed and drained
1 cup Pepperidge Farm® Herb Seasoned Stuffing
1/2 cup crumbled blue cheeseor shredded Cheddar cheese (about 2 ounces)
Heat the oven to 350°F.
Cook the sausage, beef and onion in a 12-inch oven-safe skillet until the sausage and beef are well browned, stirring often to separate the beef. Pour off any fat. Stir in the spinach and cook until it's wilted.
Stir the soup, milk and beans in the skillet.
Stir the stuffing and cheese in a small bowl. Sprinkle the stuffing mixture around the inside edge of the skillet.
Bake for 30 minutes or until the sausage mixture is hot and bubbling.
Tips
Helper: If your skillet has a handle that is not oven-safe, cover it with aluminum foil to protect it in the oven.