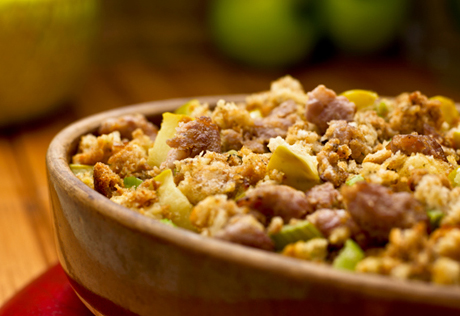 Ingredients & Directions
8 tablespoons butter (1 stick)
2 medium Granny Smith apple, coarsely chopped
3/4 pound sweet Italian pork sausage, casing removed
1 large onion, chopped (about 1 cup)
2 stalks celery, chopped (about 1 cup)
4 cups Swanson® Chicken Broth or Swanson® Certified Organic Chicken Broth
Swanson® Natural Goodness® Chicken Broth
1 package (14 ounces) Pepperidge Farm® Herb Seasoned Stuffing
2 cups seasoned croutons or whole grain seasoned croutons
1/2 cup chopped fresh sage leaves
1 egg, beaten
Heat 1 tablespoon butter in a 12-inch skillet over medium-high heat. Add the apples and cook for 5 minutes or until browned, stirring occasionally.  Remove the apples from the skillet.
Heat 2 tablespoons butter in the skillet.  Add the sausage, onion and celery and cook until the sausage is well browned, stirring often to separate meat.  Stir in the broth and remaining butter and heat to a boil.
Stir the apples, stuffing, croutons, sage and egg in a large bowl.  Add the sausage mixture and mix lightly.  Spray a 3-quart shallow casserole with vegetable cooking spray.  Spoon the stuffing mixture into the baking dish.  Cover the baking dish.
Bake at 350°F. for 45 minutes or until the stuffing mixture is hot.