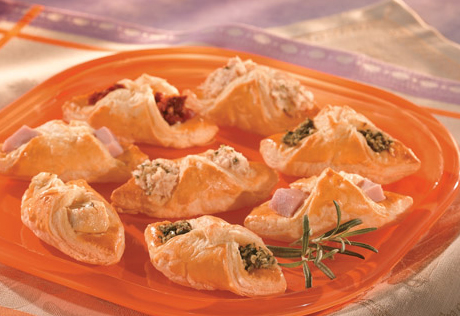 Ingredients & Directions
1 package (17.3 ounces) Pepperidge Farm® Puff Pastry Sheets, thawed
1 egg
1 tablespoon water
32 pieces deli hamor other deli meat and/or cheese, (1-inch chunks)
Heat the oven to 400°F.  Beat the egg and water in a small bowl with a fork or whisk.
Unfold 1 pastry sheet on a lightly floured surface.  Roll the pastry sheet into a 12-inch square.  Cut into 16 (3-inch) squares.  Repeat with the remaining baking sheet.  Place 1 piece ham in the center of each square. Brush the edges of the squares with the egg mixture. Fold 2 opposite corners to the center over the ham and pinch the edges firmly to seal. Place the filled pastries onto baking sheets.
Bake for 15 minutes or until the pastries are golden brown.  Remove the pastries from the baking sheets and let cool on wire racks for 10 minutes.
Tips
Flavor Variation: Make a variety of different pastries using any of these additional filling options- Place one of the following into each pastry square: 1-inch chunks pepperoni, 2 teaspoons ham or chicken spread; 1 teaspoon cream cheese (plain or flavored) and 1 slice jalapeño pepper or green olive, 2 teaspoons seafood or whitefish salad, 1 teaspoon prepared pesto or chopped oil-packed sun-dried tomatoes, 1 small marinated mushroom or 1-inch piece marinated artichoke heart.