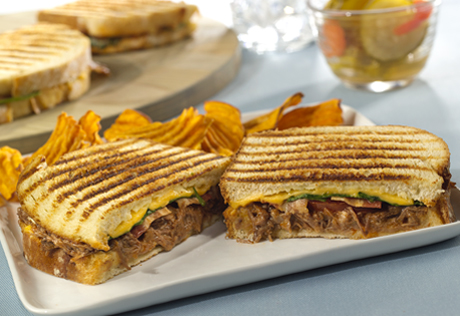 Ingredients & Directions
2 cups warmed slow-cooked shredded beef (made with )*
1/2 cup light mayonnaise
1 tablespoon lime juice
1 tablespoon chopped fresh cilantro
8 slices Pepperidge Farm® Sourdough Bread
8 slices (thinly-sliced) sharp Cheddar cheese
8 tomato slice
8 slices bacon, cooked and drained
1 cup packed baby spinachor arugula
Heat the panini maker. Drain any excess liquid from the beef.  Stir the mayonnaise, lime juice and cilantro in a small bowl.
Spread 1 tablespoon mayonnaise mixture on each bread slice. Layer 4 slices bread with 1 slice cheese, 1/2 cup beef, 2 slices tomato, 2 slices bacon and 1/4 cup spinach. Top with the remaining cheese and bread slices, mayonnaise-side down. Spray the sandwiches with vegetable cooking spray.
Add the sandwiches to the panini maker in batches and cook for 5 minutes or until lightly browned and the cheese is melted.
Tips
*To make the beef, you will need 1 pouch (12 ounces) Campbell's® Shredded Beef Taco Slow Cooker Sauce, 2-to 3-pounds boneless beef chuck and a 6-quart slow cooker. Cook time is about 7 hours on LOW.