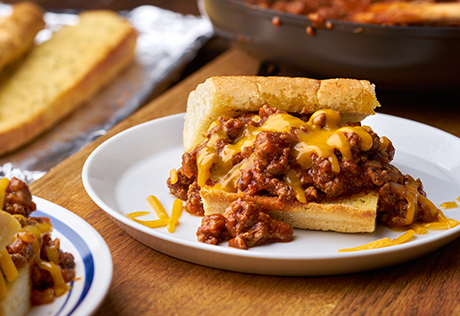 Ingredients & Directions
2 packages (10 ounces each) Pepperidge Farm® Garlic Bread
1 tablespoon olive oil
1 medium onion, diced (about 1/2 cup)
2 cloves garlic, minced
1 pound ground beef
1.5 cups Prego® Flavored with Meat Italian Sauce
3/4 cup shredded Cheddar cheese
Heat the oven to 400°F.  Remove the bread from the bags.  Carefully separate the bread halves with a fork.  Place the bread halves, cut-side up, onto 2 baking sheets.
Bake the bread for 10 minutes or until heated through. Cut each baked bread loaf into thirds. 
While the oven is heating, start the filling mixture.  Heat the oil in a 12-inch skillet over medium heat. Add the onion and cook until tender. Add the garlic and cook and stir for 30 seconds.  Add the beef and cook until well browned, stirring often to separate meat. Pour off any fat.
Stir in the sauce.  Reduce the heat to medium-low. Cover and cook for 10 minutes or until the beef is cooked through.  Season to taste. Divide the beef mixture among the 6 bottom bread pieces. Top with the cheese and the remaining bread pieces.