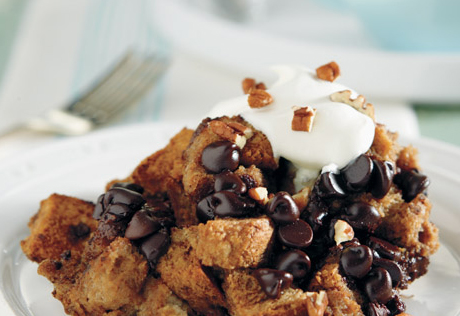 Ingredients & Directions
1 loaf (24 ounces) Pepperidge Farm® Farmhouse™ Hearty White Bread, cut into cubes (about 15 cups)
4 cups reduced fat (2%) milk
1/4 cup heavy cream
6 large egg
1 tablespoon vanilla extract
1 cup sugar
1 cup packed light brown sugar
1/4 cup unsweetened cocoa powder
1 tablespoon instant espressopowder
8 ounces (1 cup) semi-sweet chocolate pieces
Spray the inside of a 6-quart slow cooker with vegetable cooking spray.  Place the bread cubes into the cooker.
Beat the milk, heavy cream, eggs and vanilla extract in a large bowl with a fork or whisk.
Stir the granulated sugar, brown sugar, cocoa powder and espresso powder in a medium bowl. Stir into the milk mixture.
Pour the milk mixture over the bread cubes.  Stir and press the bread cubes into the milk mixture to coat.  Sprinkle with the chocolate pieces.
Cover and cook on HIGH for 2 to 3 hours or until set.
Tips
Serving Suggestion: Serve warm with whipped cream or vanilla ice cream and topped with toasted chopped almonds or pecans.