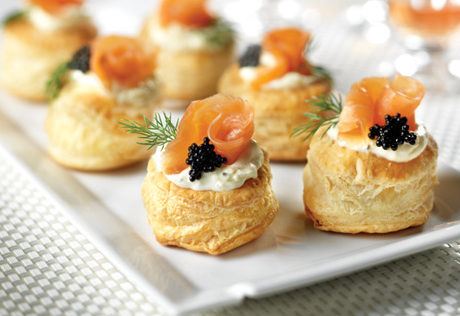 Ingredients & Directions
0.333 cup crème fraîche
1.5 teaspoons grated lemon zest
1/8 teaspoon freshly ground black pepper
1/2 of a 17.3-ounce package Pepperidge Farm® Puff Pastry Sheets(1 sheet), thawed
1 each of a 4-ounce package thinly sliced smoked salmon, cut into 12 pieces
12 sprigs fresh dill weed
3 teaspoons black caviar, tobiko or salmon roe (optional)
Heat the oven to 400°F.  Stir the crème fraîche, lemon zest and black pepper in a small bowl.

Unfold the pastry sheet on a lightly floured surface.  Using a round cutter, cut the pastry sheet into 12 (2-inch) circles.  Place the pastry circles onto a baking sheet.  Prick the pastry circles thoroughly with a fork.
Bake for 12 minutes or until the pastries are golden brown.  Let the pastries cool on the baking sheet for 10 minutes.

Spoon 2 teaspoons crème fraîche mixture on each pastry.  Top each with 1 piece salmon and 1 sprig dill.  Top with the caviar, if desired. 

Tips
Recipe Note: Customize the recipe by cutting the pastry into shapes other than circles.  Try stars or hearts- just make sure that the cutter measures about 2 inches across.