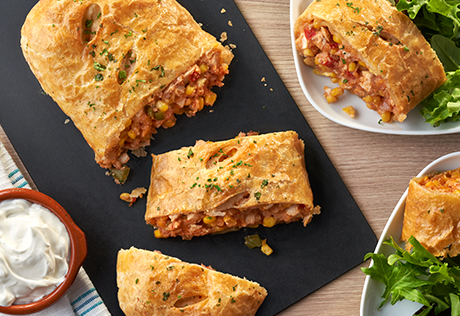 Ingredients & Directions
1 egg
1 tablespoon water
1.5 cups chopped boneless, skinless chicken breasts, cooked
1 cup shredded Colby Jack cheese (about 4 ounces)
1 can (11 ounces) Mexican style corn, drained
1/2 cup fresh bread crumbs
1 cup Pace® Picante Sauce
1/2 of a 17.3-ounce package Pepperidge Farm® Puff Pastry Sheets (1 sheet), thawed
2 teaspoons chopped fresh parsley
5 ounces (1 package) mixed salad greens
1/2 cup sour cream
Heat the oven to 400°F.  Beat the egg and water in a small bowl with a fork.
Stir the chicken, cheese, corn, bread crumbs and picante sauce in a medium bowl.
Unfold the pastry sheet on a lightly floured surface. Roll the pastry sheet into a 16x12-inch rectangle. With the short side facing you, spoon the chicken mixture onto the bottom half of the pastry to within 1-inch of the edges.  Starting at the short side, roll up like a jelly roll.  Place the pastry seam-side down onto a baking sheet.  Tuck the ends under to seal.  Brush the pastry with the egg mixture and sprinkle with the parsley.  Cut 2-inch slits 2 inches apart in the pastry top.
Bake for 30 minutes or until the pastry is golden brown.  Slice and serve warm on the salad greens with the sour cream, if desired.
Tips
Serving Suggestion: Serve with home-style coleslaw.  For dessert serve chilled key lime pie.