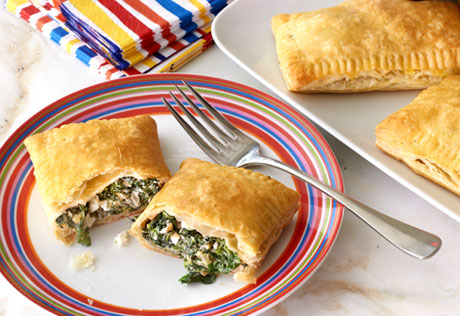 Ingredients & Directions
1 tablespoon butter
1 large onion, chopped (about 1 cup)
1 package (10 ounces) chopped frozen spinach, thawed and well drained
2 egg
1/2 of an 8-ounce package cream cheese, softened
1/4 teaspoon garlic powder
1 package (17.3 ounces) Pepperidge Farm® Puff Pastry Sheets(2 sheets), thawed
1 tablespoon water
1/2 cup crumbled feta cheese
Heat the oven to 375°F. Lightly spray 2 baking sheets with vegetable cooking spray.
Heat the butter in a 10-inch skillet over medium heat. Add the onion and cook until it's tender. Add the spinach and cook for 2 minutes or until the liquid evaporates, stirring constantly. Remove the skillet from the heat. Beat 1 egg in a small bowl with a fork. Stir the beaten egg, cream cheese and garlic powder in the skillet.
Unfold 1 pastry sheet on a lightly floured surface. Roll the pastry into a 9 x12-inch rectangle. Cut the rectangle into 4 (4 1/2 x 6-inch) rectangles. Repeat with the remaining pastry sheet, making 8 rectangles in all. Beat the remaining egg and water in a small bowl with a fork. Brush the edges of rectangles with the egg mixture.
Spoon about 1/4 cup spinach mixture onto the center of each rectangle. Top each with 1 tablespoon feta cheese. Fold the pastry in half over the filling and crimp the edges with a fork to seal. Brush the pastries with the egg mixture.
Bake the pastries for 25 minutes or until they're golden brown. Let the pastries stand for 10 minutes.