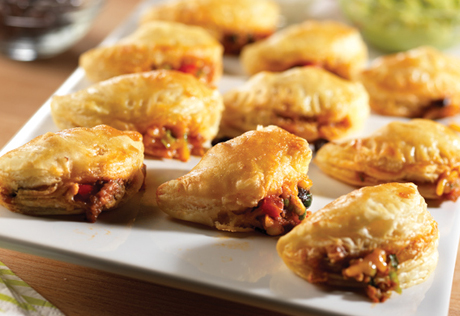 Ingredients & Directions
2 packages (17.3 ounces each ) Pepperidge Farm® Puff Pastry Sheets(4 sheets), thawed
1 egg
1 tablespoon water
1/2 pound ground pork
1 small red bell pepper, diced (about 2/3 cup)
4 medium green onion, chopped (about 1/2 cup)
1 clove garlic, minced
1/2 cup tomato sauce
1 teaspoon ground cumin
1 teaspoon chili powder
1/8 teaspoon crushed red pepper
1.5 cups shredded Cheddar cheese(about 6 ounces)
1 can (about 15 ounces) black beans, rinsed and drained
1/4 cup chopped fresh cilantroleaves
1 cup sour cream
1 cup guacamole
Heat the oven to 375°F.  Beat the egg and water in a small bowl with a fork or whisk.
Cook the pork in a 12-inch skillet over medium-high heat until it's well browned, stirring often to separate meat.  Stir in the diced red pepper, onions and garlic and cook until tender. Stir in the tomato sauce, cumin, chili powder and crushed red pepper.  Reduce the heat to low.  Cook for 5 minutes. Remove the skillet from the heat.  Stir in the cheese, 1 cup beans and the cilantro.  Let the mixture cool to room temperature.
Unfold 1 pastry sheet on a lightly floured surface.  Roll the pastry sheet into a 16 x 12-inch rectangle. Cut into 10 (2 1/2-inch) circles.  Repeat with the remaining pastry sheets, making 40 in all.
Spoon 1 teaspoon pork mixture on half of each pastry circle.  Brush the edges of the pastry with water.  Fold the pastry over the filling and crimp with a fork to seal.  Place the filled pastries onto baking sheets.  Brush the pastries with the egg mixture.

Bake for 15 minutes or until the pastries are golden brown. Remove the pastries from the baking sheets and let cool on wire racks for 10 minutes.  Serve the pastries with the sour cream, guacamole and remaining beans.
Tips
Easy Substitution Tip: Use ground turkey instead of the pork. Add 1 teaspoon vegetable oil to the skillet while browning the turkey.
Tip: To make ahead, place the unbaked empañadas onto a baking sheet.  Cover and freeze until firm.  Remove the frozen empañadas from the baking sheet and store in a gallon size resealable plastic bag in the freezer for up to 1 month.  Bake the frozen empañadas as directed above.