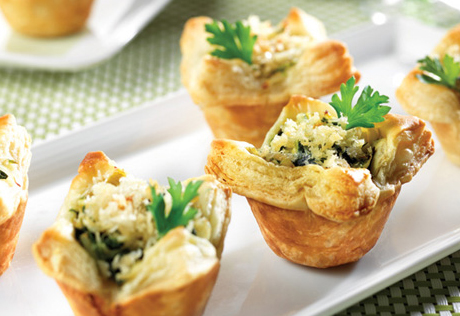 Ingredients & Directions
3 tablespoons mayonnaise
3 tablespoons sour cream
1/8 teaspoon freshly ground black pepper
1/4 cup frozen spinach, thawed and well drained
0.333 cup well drained chopped canned artichoke hearts
0.333 cup lump crabmeat, well drained
1/2 of a 17.3-ounce package Pepperidge Farm® Puff Pastry Sheets(1 sheet), thawed
3 tablespoons Japanese bread crumbs(panko)
1.5 tablespoons finely grated parmigiano-reggiano cheeseor Parmesan cheese
1.5 teaspoons extra-virgin olive oil
12 small sprigs fresh parsley
Heat the oven to 375°F.  Stir the mayonnaise, sour cream and black pepper in a medium bowl.  Add the spinach, artichokes and crabmeat and mix lightly. 

Unfold the pastry sheet on a lightly floured surface.  Cut the pastry sheet into 3 (2 1/2-inch wide) strips.  Discard the remaining pastry.  Cut each pastry strip into 4 (2 1/2-inch) squares, making 12 in all.  Press the pastry squares into 12 (1 3/4-inch) mini muffin-pan cups.

Spoon 1 1/2 tablespoons crab mixture into each pastry cup.  Stir the bread crumbs, cheese and oil in a small bowl.  Sprinkle 1 teaspoon bread crumb mixture over each filled pastry.

Bake for 20 minutes or until the pastries are golden brown.  Top each with 1 sprig parsley before serving.

Tips
Easy Substitution: You can substitute cooked fresh spinach for the frozen spinach in this recipe.  1 cup tightly packed fresh spinach leaves, cooked and well drained, equals the 1/4 cup needed in this recipe.