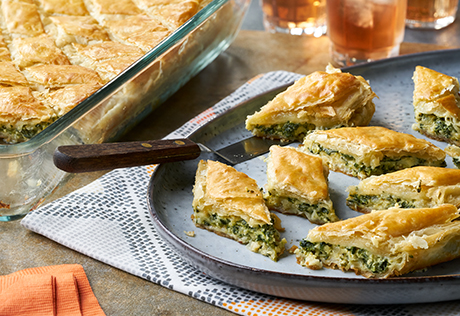 Ingredients & Directions
2 tablespoons butter
1 medium onion, finely chopped (about 1/2 cup)
1 package (10 ounces) frozen chopped spinach, thawed and squeezed dry
1 can (10 1/2 ounces) Campbell's® Condensed Cream of Chicken Soup or (10 1/2 ounces) Campbell's® Condensed Cream of Mushroom Soup
4 egg
1 cup shredded Swiss cheese(about 4 ounces)
1/4 teaspoon ground nutmeg
2 tablespoons all-purpose flour
1 package (17.3 ounces) Pepperidge Farm® Puff Pastry Sheets, thawed
1 tablespoon water
Heat the oven to 375°F.  While the oven is heating, heat the butter in a 2-quart saucepan over medium heat. Add the onion and cook until tender, stirring occasionally. Stir in the spinach.  Season to taste.
Stir the soup, 3 eggs, cheese and nutmeg in a medium bowl. Stir in the spinach mixture.
Sprinkle the flour on the work surface.  Unfold 1 pastry sheet the work surface. Roll the pastry into a 13x9-inch rectangle. Place the pastry in a 13x9-inch baking dish. Spread the spinach mixture over the pastry.
Roll the remaining pastry sheet into a 13x9-inch rectangle and place over the spinach mixture, tucking the edges under. Stir the remaining egg and water in a small bowl with a fork. Brush the pastry with the egg mixture.
Bake for 40 minutes or until the pastry is golden brown. Cool in the baking dish on a wire rack for 20 minutes.  Cut crosswise into 4 strips.  Cut each strip on the diagonal to make 24 diamond-shaped pieces.