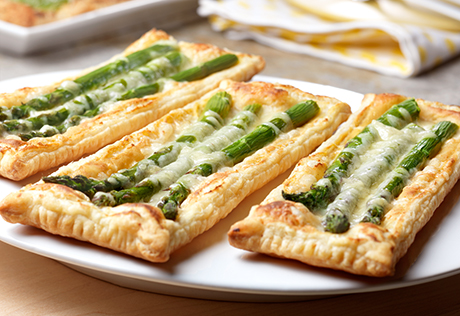 Ingredients & Directions
2 tablespoons all-purpose flour
1 package (17.3 ounces) Pepperidge Farm® Puff Pastry Sheets, thawed
1/4 cup Dijon-style mustard
18 thin spears fresh asparagus, trimmed
3/4 cup shredded Gruyère cheese
Heat the oven to 400°F.  Line 2 baking sheets with parchment paper. 

Sprinkle the flour on the work surface.  Unfold 1 pastry sheet on the work surface.  Cut the pastry sheet into 3 strips along the fold lines.  Repeat with the remaining pastry sheet.  Brush the pastry strips with the mustard.  Fold over the edges of the pastry strips 1/8 inch on all sides, crimping with a fork to form a rim.
Place the pastries onto the baking sheets.  Prick the pastries with a fork.  Arrange 3 spears asparagus on each pastry.  Sprinkle each with 2 tablespoons cheese.

Bake for 20 minutes or until the pastries are golden brown.  Let the pastries cool on the baking sheets on wire racks for 5 minutes.

Tips
Easy Substitution:  You can also use smoked gouda or Fontina instead of the Gruyère.