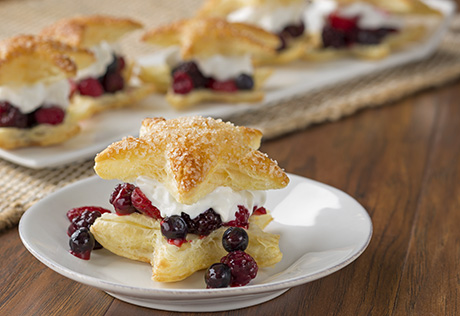 Ingredients & Directions
1/2 of a 17.3-ounce package Pepperidge Farm® Puff Pastry Sheets (1 sheet), thawed
1 package (12 ounces) frozen mixed berries, thawed and well drained
1 egg, beaten
1 tablespoon water
2 tablespoons all-purpose flour
1 tablespoon coarse sugar crystals
3/4 cup whipped topping(This is the amount we used, but add as much as you like!)
Set the pastry and berries out to thaw.  Heat the oven to 400°F.  Line a baking sheet with parchment paper. Beat the egg and water in a small bowl with a fork.
Sprinkle the work surface with the flour.  Unfold the thawed pastry sheet on the work surface.  Using a star-shaped cutter, cut the pastry into 6 (about 4-inch) stars.  Place the pastry stars onto the baking sheet.  Brush with the egg, then sprinkle with the sugar.
Bake for 15 minutes or until the pastries are golden brown.  Let the pastries cool on the baking sheet on a wire rack for 10 minutes.
Carefully split each pastry into 2 layers.  Just before serving, spoon about 2 tablespoons berries onto each bottom pastry layer, then top with about 2 tablespoons whipped topping and a top pastry layer.
Tips
Keeping berries and puff pastry on hand makes it easy to create simple but beautiful desserts like this one in minutes.