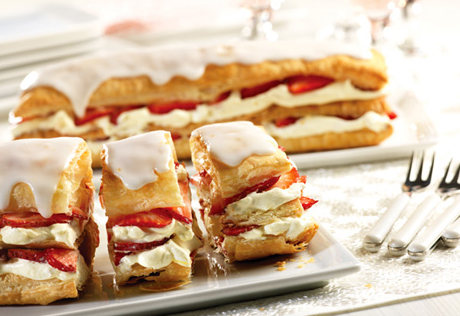 Ingredients & Directions
2 tablespoons all-purpose flour
1/2 of a 17.3-ounce package Pepperidge Farm® Puff Pastry Sheets (1 sheet)
1 package (about 3 1/2 ounces) instant vanilla pudding and pie filling mix
1 cup milk
1 cup heavy cream, whipped or 2 cups thawed frozen whipped topping
1/2 cup confectioners' sugar
2 teaspoons milk
1.5 cups fresh or frozen sliced strawberries
Heat the oven to 400°F. Line a baking sheet with parchment paper.
Sprinkle the work surface with the flour. Unfold the pastry sheet onto the floured surface. Cut the pastry sheet into 3 strips along the fold marks. Place the pastry strips onto the baking sheet.
Bake for 15 minutes or until the pastries are golden brown.  Remove the pastries from the baking sheet and let cool on a wire rack for 10 minutes. Split the pastries into 2 layers, making 6 layers in all.

Prepare the pudding mix according to the package directions with 1 cup milk in a large bowl. Fold in the whipped cream. Cover and refrigerate for 10 minutes. To make icing, stir the confectioners' sugar and 2 teaspoons milk in a small bowl.
Spread the icing on 2 top pastry layers. Spread 3/4 cup pudding mixture on 4 pastry layers. Top each with about 1/3 cup strawberries. Stack 1 strawberry-topped layer onto a second one to make 2 stacks. Top each stack with an iced pastry layer. Serve immediately or cover and refrigerate up to 4 hours.  Cut each Napoleon into 6 pieces.
Tips
Helper: For easier slicing, refrigerate the Napoleons for a least 1 hour and use a wet serrated knife.
Serving Suggestion: The pastries may be drizzled with 1 square (1 ounce) semi-sweet chocolate, melted, before serving.
Recipe Note: Parchment paper keeps the pastry from sticking to the baking sheet and also makes for easier cleanup. If you don't have parchment paper, you can spray the baking sheet with cooking spray instead. However, cooking spray may cause the bottoms of the pastries to brown more quickly, so begin checking for doneness 5 minutes early.