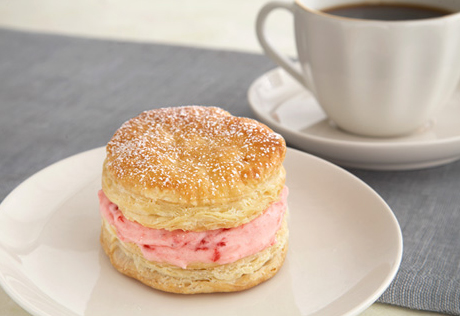 Ingredients & Directions
1/2 of a 17.3-ounce package Pepperidge Farm® Puff Pastry Sheets(1 sheet), thawed
1/2 cup (1 stick) butter, softened
1/2 cup strawberry preserves
1/2 teaspoon vanilla extract
1/4 teaspoon grated lemon zest
1/4 teaspoon lemon juice
2 cups confectioners' sugar
Heat the oven to 400°F.

Unfold the pastry sheet on a lightly floured surface.  Using a 3-inch round biscuit cutter, cut the pastry sheet into 9 (3-inch) circles.  Place the pastries onto a baking sheet.

Bake for 10 minutes or until the pastries are golden brown.  Remove the pastries from the baking sheet and let cool on a wire rack for 10 minutes.  Split each pastry into 2 layers.

Beat the butter in a large bowl with an electric mixer on medium-high speed until light and fluffy.  Beat in the preserves, vanilla extract, lemon zest and lemon juice.  Reduce the speed to low.  Beat in the sugar, 1 cup at a time, until just blended. 

Divide the strawberry mixture among the bottom pastry layers.  Top with the top pastry layers.  Sprinkle with additional confectioners' sugar.  Garnish with additional lemon zest, if desired