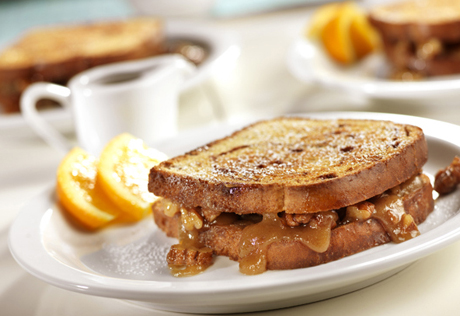 Ingredients & Directions
1 stick (1/2 cup) butter
1/2 cup packed brown sugar
1/2 cup chopped pecans
1 loaf (16 ounces) Pepperidge Farm® Cinnamon Swirl Bread(16 slices)
1 cup milk
2 egg
1 cup sugar
2 teaspoons vanilla extract
2 teaspoons confectioners' sugar
Heat the oven to 350°F.
Heat the butter and brown sugar in a 1-quart saucepan over medium heat to a boil. Remove the saucepan from the heat and stir in the pecans.
Lightly grease a baking sheet with additional butter.  Place the bread slices onto the baking sheet.  Bake for 5 minutes or until the bread slices are lightly toasted on both sides.
Beat the milk, eggs, granulated sugar and vanilla extract in a medium bowl with a fork or whisk. Dip 8 bread slices into the milk mixture and place onto a baking sheet. Spread about 1 tablespoon pecan mixture onto each dipped bread slice. Dip the remaining bread slices into the milk mixture and place over the pecan mixture to form sandwiches.
Bake for 20 minutes or until the sandwiches are lightly browned.  Sprinkle with the confectioners' sugar.
Tips
Tip: When cooking a sugar mixture on top of the stove, use a heavy-bottomed saucepan.  The thicker the bottom, the less readily the sugar will burn.