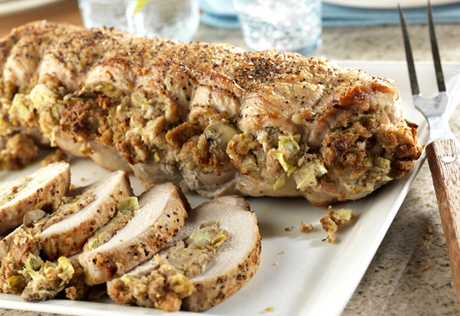 Ingredients & Directions
1/2 cup butter(1 stick)
2 tablespoons olive oil
6 medium green onion, chopped (about 3/4 cup)
1 tablespoon minced garlic
3 cups Swanson® Chicken Broth or Swanson® Certified Organic Chicken Broth
Swanson® Natural Goodness® Chicken Broth
2 cans (14 ounces each ) artichoke hearts, drained and chopped
3 cans (8 ounces each ) mushrooms, pieces and stems, drained
2 tablespoons chopped fresh parsley
1 teaspoon ground black pepper
1 package (14 ounces) Pepperidge Farm® Herb Seasoned Stuffing
5 pounds center-cut boneless pork loin roast, butterflied (1 roast)
1/2 teaspoon garlic powder
Heat the oven to 400°F.  Heat the butter and oil in a 12-inch skillet over medium heat. Add the green onions and garlic and cook until the onions are tender. Stir in the broth, artichokes, mushrooms, parsley and black pepper and heat to a boil.
Remove the skillet from the heat.  Add the stuffing and mix lightly.
Spoon 3 cups stuffing mixture down the center of the pork. Fold the sides over the filling to form a roll. Tie the pork crosswise at 2-inch intervals with kitchen twine.
Season the pork with additional black pepper and the garlic powder. Place the pork into a large roasting pan.
Bake for 45 minutes or until the pork is cooked through. Let the pork stand for 10 minutes.  Remove the twine before slicing.  
Tips
Helper: Bake the remaining stuffing mixture in a covered casserole with the pork for the last 15 minutes of baking time or until the stuffing mixture is hot.
Ingredient Note: You can have the butcher butterfly the roast for you or do it yourself.  To do it yourself, hold your knife horizontally and make a lengthwise cut about 1 1/2-inches deep along the side of the roast (do not cut all the way through). Open the roast like a book. Pound the pork with a meat mallet to achieve an even thickness.