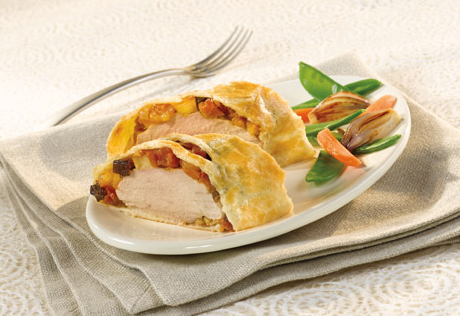 Ingredients & Directions
1/2 of a 17.3-ounce package Pepperidge Farm® Puff Pastry Sheets(1 sheet), thawed
1 egg
1 tablespoon water
1 tablespoon vegetable oil
1 large onion, chopped (about 1 cup)
1.5 cups mixed dried fruit, coarsely chopped
1/4 cup port wine
2 pounds boneless pork tenderloin(2 tenderloins 1 pound each )
0.333 cup all-purpose flour
Heat the oven to 375°F.  Beat the egg and water in a small bowl with a fork or whisk.
Heat the oil in a 10-inch skillet over medium heat. Add the onion and cook until tender. Stir the fruit and wine in the skillet. Cook for 5 minutes or until all the liquid is evaporated. Remove the skillet from the heat.  Let cool to room temperature.
Coat the pork with the flour.
Unfold the pastry sheet on a lightly floured surface. Roll the pastry sheet into a 14-inch square. Cut into 2 (14 x 7-inch) rectangles. Spread half the onion mixture lengthwise down the center of each rectangle. Top each with 1 pork tenderloin. Brush the edges of the pastry with the egg mixture. Fold the pastry over the pork and press to seal.  Place the wrapped pork seam-side down onto a baking sheet. Tuck the ends under to seal.  Brush the pastry with the egg mixture.
Bake for 30 minutes or until the pastries are golden brown. Remove the pastries from the baking sheet and let cool on wire racks for 10 minutes.
Tips
Serving Suggestion: Serve with sautéed broccoli florets and red pepper strips. For dessert serve apple slices sautéed in butter with cinnamon and almonds. (Optional: add a splash of apple brandy.)