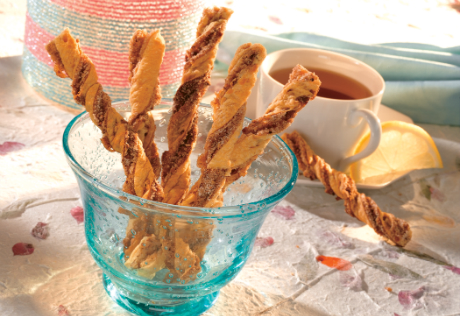 Ingredients & Directions
1 egg, beaten
1 tablespoon water
1/2 of a 17.3-ounce package Pepperidge Farm® Puff Pastry Sheets (1 sheet), thawed according to package directions
2/3 cup finely chopped pecans
1/2 cup sugar
1/2 teaspoon ground cinnamon
Heat the oven to 350°F. Lightly spray 2 baking sheets with vegetable cooking spray or line them with parchment paper. Stir the egg and water in a small bowl with a fork. 

Unfold the pastry on a lightly floured surface. Roll the pastry into a 12-inch square. Brush the pastry with the egg mixture.
Stir the pecans, sugar and cinnamon in a small bowl. Sprinkle the pecan mixture over half of the pastry. Fold the other pastry half over the pecan filling. Slide the pastry onto a baking sheet and refrigerate for 30 minutes or until the pastry is firm.
Roll the chilled pastry on a lightly floured surface into a 12-inch square. Using a sharp knife or fluted pastry wheel, cut the dough crosswise into 24 (1/2-inch wide) strips. Twist the strips and place them 2 inches apart, on the prepared baking sheets, pressing down the ends. Refrigerate the twists for 1 hour.
Bake the pastry twists for 20 minutes or until they're golden brown. Let them cool on a wire rack for 5 minutes.
Tips
Recipe Note: Parchment paper keeps the pastry from sticking to the baking sheet and also makes for easier cleanup. If you don't have parchment paper, you can spray the baking sheet with cooking spray instead. However, cooking spray may cause the bottoms of the pastries to brown more quickly, so begin checking for doneness 5 minutes early.