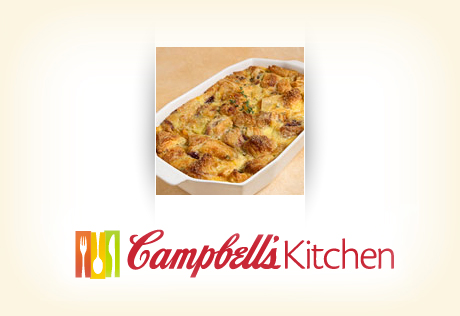 Ingredients & Directions
1 package (12.5 ounces each ) Pepperidge Farm® Peach Turnovers, baked and cooled according to package directions
1 package (12.5 ounces each ) Pepperidge Farm® Raspberry Turnovers, baked and cooled according to package directions.
2 cups whole milk
1 cup heavy cream
1/2 cup granulated sugar
6 egg
1.5 teaspoons fresh thyme leaves or fresh lemon thyme leaves
2 teaspoons vanilla extract
3 tablespoons Demerara or other coarse raw sugar
1.5 cups sweetened whipped cream or ice cream
Heat the oven to 350°F. Spray a 2-quart shallow baking dish with vegetable cooking spray.

Cut each baked and cooled turnover into 6 pieces. Place the turnover pieces into the prepared baking dish. Beat the milk, cream, granulated sugar, eggs, thyme and vanilla extract in a large bowl with a fork or whisk. Pour the milk mixture over the turnover pieces and let stand for 10 minutes. Sprinkle with the Demerara sugar.
Bake for 55 minutes or until the pudding is set. Serve the pudding warm or at room temperature with the whipped cream, if desired.