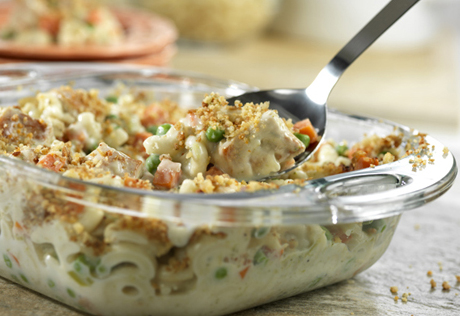 Ingredients & Directions
1/2 cup Pepperidge Farm® Herb Seasoned Stuffing, crushed
2 tablespoons grated Parmesan cheese
2 tablespoons butter, melted
1 can (10 1/2 ounces) Campbell's® Condensed Cream of Broccoli Soup
1 cup milk
1/2 cup shredded mozzarella cheese
1/4 teaspoon garlic powder
1/8 teaspoon ground black pepper
4 ounces (about 1 cup) cooked elbow macaroni, drained
2 cups cubed boneless, skinless chicken breasts, cooked or turkey
1 package (10 ounces) frozen peas and carrots, cooked and drained
Heat the oven to 400°F.  Stir the stuffing, Parmesan cheese and butter in a medium bowl.
Stir the soup, milk, mozzarella cheese, garlic powder and black pepper in a 2-quart baking dish.  Stir in the pasta, chicken and peas and carrots.
Bake for 20 minutes or until the chicken mixture is hot and bubbling.  Stir the chicken mixture.  Sprinkle with the stuffing mixture.

Bake for 5 minutes or until the stuffing mixture is golden brown.

Tips
Serving Suggestion: Serve with a Caesar salad.  For dessert serve your favorite Pepperidge Farm® layer cake.