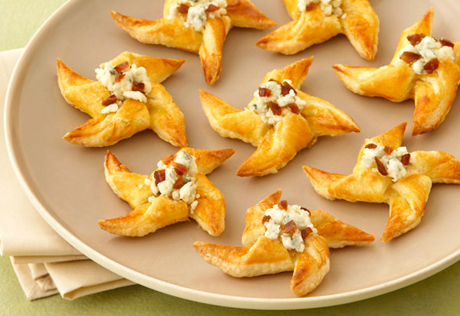 Ingredients & Directions
1 package (17.3 ounces) Pepperidge Farm® Puff Pastry Sheets, thawed according to package directions
1 egg, beaten
1 tablespoon water
1.5 cups crumbled gorgonzola cheese
1.5 cups chopped dates
Heat the oven to 350°F. Unfold the pastry sheets on a lightly floured surface. Roll the pastry sheets into 2 (12-inch) squares. Cut each square into 24 (2-inch) squares, making 48 in all.
Using a sharp knife, cut diagonal lines from each corner of the pastry squares to within 3/4-inch of the center. Fold every other corner to the center and press to seal. Brush the pastries with the egg mixture. Place the pastries onto 2 baking sheets.
Beat the egg and water in a small bowl with a fork.
Bake for 15 minutes or until the pastries are golden brown. Using the back of a spoon, press down the centers of the hot pastries to make an indentation. Spoon 1/2 teaspoon gorgonzola cheese in the center of each pastry. Top each with 1/2 teaspoon chopped dates. (See tip for chocolate variation.)
Tips
For Bittersweet Chocolate Superstars, omit the gorgonzola cheese and dates.  Stir 4 ounces bittersweet chocolate, finely chopped and 1/2 teaspoon cracked black pepper in a small bowl. Spoon 1/2 teaspoon chocolate mixture onto each hot pastry. Sprinkle with confectioners' sugar before serving.
For Garlic & Rosemary Superstars, substitute garlic & herb spreadable cheese for the gorgonzola.  Pipe or spoon the cheese mixture into the pastries and top with the dates.  Sprinkle with 2 tablespoons chopped fresh rosemary.