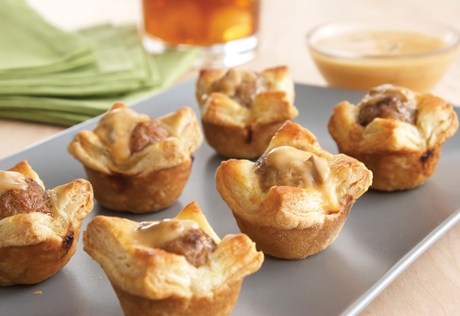 Ingredients & Directions
2 egg, beaten
1 tablespoon water
1 pound ground beef, pork and veal (meatloaf mix)
3 tablespoons seasoned dry bread crumbs
0.333 cup finely chopped onion
1/2 teaspoon nutmeg
1/2 teaspoon ground black pepper
1/4 cup olive oil
2 tablespoons all-purpose flour
1 package (17.3 ounces) Pepperidge Farm® Puff Pastry Sheets, thawed
1 can (10 3/4 ounces) Campbell's® Condensed Golden Mushroom Soup
3/4 cup milk
Heat the oven to 375°F.  Beat 1 egg and the water in a small bowl with a fork.
Thoroughly mix the meatloaf mix, bread crumbs, onion, remaining egg, nutmeg and black pepper in a large bowl.  Shape the meat mixture into 24 (1-inch) meatballs.

Heat the oil in a 12-inch skillet over medium-high heat.  Add the meatballs and cook for 5 minutes, turning the meatballs over once halfway through the cooking time.  Drain the meatballs on paper towels.

Sprinkle the flour on the work surface.  Unfold 1 pastry sheet on the work surface.  Roll the pastry sheet into a 10-inch square.  Cut the pastry sheet into 12 (about 3 x 2 1/2-inch) rectangles. Repeat with the remaining pastry sheet.  Press the pastries into 24 (1 3/4-inch) mini muffin-pan cups.  Brush the pastry cups with the egg mixture.  Place 1 meatball into each tartlet shell.

Bake for 25 minutes or until the pastries are golden brown.  Remove the pastries from the pans and let cool on wire racks for 5 minutes.

Heat the soup and milk in a 1-quart saucepan over medium heat until the mixture is hot and bubbling, stirring occasionally.  Spoon the soup mixture over the pastries before serving.