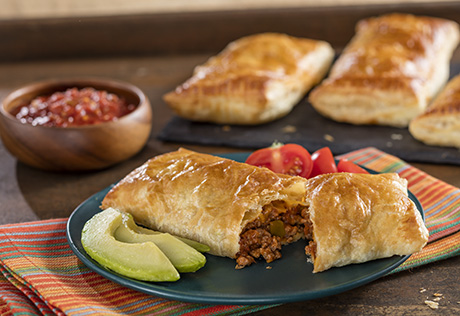 Ingredients & Directions
1 pound ground beef
1 package (1.25 ounces) taco seasoning mix
2/3 cup water
1 cup Pace® Chunky Salsa
1 package (17.3 ounces) Pepperidge Farm® Puff Pastry Sheets(2 sheets)
1 egg
1 tablespoon water
1 cup shredded Cheddar cheese(about 4 ounces)
Cook the beef in a 10-inch skillet over medium-high heat until it's well browned, stirring often to separate meat. Pour off any fat. Add the taco seasoning mix and water according to the package directions. Stir the salsa in the skillet. Let the beef mixture cool.
Thaw the pastry sheets at room temperature for 40 minutes or until they're easy to handle. Heat the oven to 400°F. Lightly grease or line 2 baking sheets with parchment paper. Stir the egg and water in a small bowl with a fork.
Unfold 1 pastry sheet on a lightly floured surface. Roll the pastry sheet into a 14-inch square. Cut the pastry sheet into 4 (7-inch) squares. Repeat with the remaining pastry sheet.
Place about 1/3 cup beef mixture onto half of each pastry square. Top each with 2 tablespoons cheese. Brush the edges of the pastry squares with water. Fold the pastry over the filling and crimp the edges with a fork to seal. Place the filled pastries on the baking sheets. Brush the pastries with the egg mixture.
Bake for 20 minutes or until the pastries are golden. Let cool for 5 minutes on a wire rack. Serve warm with additional salsa.
Tips
Serving Suggestion: Serve with chopped avocado, tomatoes and sour cream. For dessert serve lime sorbet and shortbread cookies.