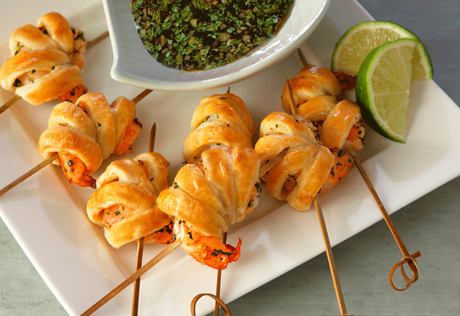 Ingredients & Directions
2 lime
2 tablespoons minced cilantro
2 cloves garlic, minced
2 tablespoons minced peeled ginger root(about a 2-inch piece)
10 ounces uncooked shrimp(20 shrimp), peeled, deveined and tails removed
5 tablespoons reduced sodium soy sauce
1 egg
2 tablespoons water
2 tablespoons all-purpose flour
1/2 of a 17.3-ounce package Pepperidge Farm® Puff Pastry Sheets(1 sheet), thawed
2 teaspoons honey
1.5 teaspoons sesame oil
Grate 2 teaspoons zest and squeeze about 1/4 cup juice from the limes.  Stir the zest, juice, cilantro, garlic and ginger in a small bowl.
Place the shrimp into a medium bowl.  Add 1 tablespoon soy sauce and half the lime mixture and toss to coat.  Cover and refrigerate for 10 minutes.  Reserve the remaining lime mixture for the dipping sauce.

Heat the oven to 400°F.  Beat the egg and 1 tablespoon water in a small bowl with a fork. 

Sprinkle the flour on the work surface.  Unfold the pastry sheet on the work surface.  Roll the pastry sheet into a 10-inch square.  Cut into 20 (about 1/2-inch) strips.
Skewer each shrimp with 1 (6-inch) wooden skewer.  Starting at the top, wrap 1 pastry strip around each shrimp, slightly overlapping the pastry and ending just before the tail.
Place the skewered pastries onto 2 baking sheets.  Brush the pastries with the egg mixture.
Bake for 15 minutes or until the pastries are golden brown.  Let the pastries cool on the baking sheets on wire racks for 5 minutes.

Beat the reserved lime mixture, remaining soy sauce and water, the honey and sesame oil in a small bowl with a fork or whisk.  Serve with the pastries for dipping.