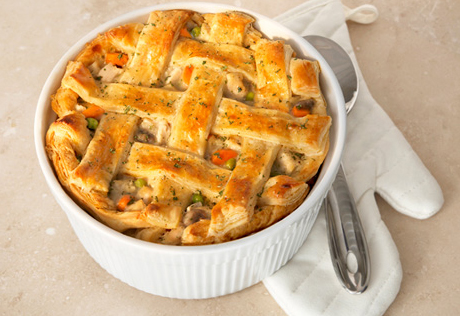 Ingredients & Directions
1 package (17.3 ounces) Pepperidge Farm® Puff Pastry Sheets, thawed
0.333 cup butter
4 medium carrot, peeled and sliced (about 2 cups)
3 medium onion, chopped (about 1 1/2 cups)
8 ounces mushrooms, sliced (about 3 cups)
0.333 cup all-purpose flour
3.25 cups Swanson® Chicken Broth or Swanson® Chicken Stock
1 tablespoon Dijon-style mustard
1 teaspoon dried thyme, crushed or 1 tablespoon minced fresh thyme leaves
1/2 teaspoon ground black pepper
3 cups cubed boneless, skinless chicken breasts, cooked
1 cup frozen peas, thawed
1/4 cup chopped fresh parsley
Heat the oven to 400°F.  Unfold 1 pastry sheet on a lightly floured surface.  Roll the pastry sheet into a 12-inch square.  Press the pastry into a 2-quart round casserole.  Trim the excess pastry.  Prick the pastry thoroughly with a fork.  Place aluminum foil onto the surface of the pastry.

Bake for 25 minutes.  Remove the aluminum foil.

Heat the butter in a 12-inch skillet over medium heat.  Add the carrots, onions and mushrooms and cook for 5 minutes or until the vegetables are tender-crisp, stirring occasionally.  Add the flour and cook and stir for 3 minutes or until the flour is golden brown.  Slowly stir in the broth and heat to a boil.  Cook and stir until the mixture boils and thickens.
Stir in the mustard, thyme, black pepper, chicken, peas and 3 tablespoons parsley.  Remove the skillet from the heat.

Unfold the remaining pastry sheet on a lightly floured surface.  Cut the pastry sheet crosswise into 6 (1 1/2-inch thick) strips.
Spoon the chicken mixture into the casserole.  Weave a lattice pattern over the filling with the pastry strips.  Trim any excess pastry.  Sprinkle with the remaining parsley.  Place the casserole onto a baking sheet.

Bake for 45 minutes or until the filling is hot and bubbling and the pastry is golden brown.