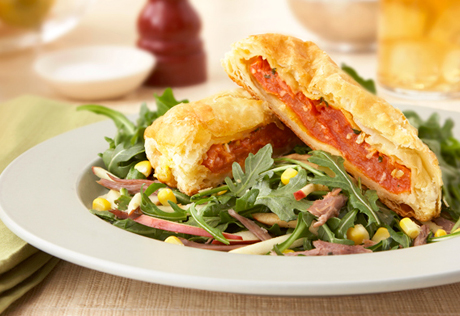 Ingredients & Directions
1 cup rice wine vinegar
1.5 teaspoons salt
1/4 cup sugar
1 Fuji apple, cut into matchstick-thin strips
4 plum tomato, cut in half lengthwise
3 cloves garlic, chopped
6 sprigs fresh thyme leaves
12 teaspoons olive oil
1/2 of a 17.3-ounce package Pepperidge Farm® Puff Pastry Sheets(1 sheet), thawed
1 egg, beaten
1 (5-to 8-ounce) duck leg confit
1 each ear fresh corn on the cob
1 package (5 ounces) baby arugula(about 8 cups)
to-taste ground black pepper
Heat the vinegar, salt and sugar in a 1-quart saucepan over medium-high heat to a boil, stirring occasionally.  Remove the saucepan from the heat and let cool to room temperature.  Stir in the apple and let stand for 30 minutes.

Heat the oven to 350°F.  Place the tomatoes, cut-side down, onto a baking sheet.  Sprinkle with the garlic.  Arrange the thyme over the tomatoes.  Drizzle with 2 tablespoons oil. 

Bake for 45 minutes.  Let the tomatoes cool on the baking sheet on a wire rack.

Increase the oven temperature to 400°F.  Unfold the pastry sheet on a lightly floured surface.  Roll the pastry sheet to remove the fold marks.  Cut the pastry sheet in quarters.

Place 2 tomato halves in the center of each pastry quarter.  Brush the edges of the pastries with the egg.  Roll the pastries around the tomatoes.  Press the seam and pinch the ends to seal. Brush the filled pastries with the egg.  Place the pastries onto a lightly greased baking sheet.

Bake for 15 minutes or until the pastries are golden brown.  Let the pastries cool on the baking sheet on a wire rack for 10 minutes.  Cut the pastries in half crosswise on the diagonal.

Heat 1 teaspoon oil in a 10-inch skillet over medium-high heat.  Add the duck leg confit and cook until well browned on all sides and heated through.  Remove the duck leg confit to a cutting board.  Using 2 forks, shred the meat.  Discard the bone.

Remove the apple from the vinegar mixture with a slotted spoon.  Using a sharp knife, cut the corn from the cob.
Place the apple, arugula, and duck leg confit into a large bowl.  Season with the black pepper.  Drizzle with the remaining oil and toss to coat.  Divide the apple mixture among 4 plates.  Top each with 2 pastry halves, cut-side up, and sprinkle with the corn.