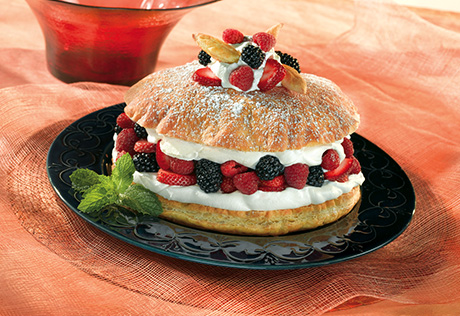 Ingredients & Directions
1/2 of a 17.3 ounce package Pepperidge Farm® Puff Pastry Sheets(1 sheet), thawed
2 cups heavy cream
0.333 cup granulated sugar
3 tablespoons orange liqueur
1 teaspoon vanilla extract
3 cups sliced fresh strawberriesand/or blackberries and/or raspberries
2 tablespoons confectioners' sugar
Heat the oven to 400°F. Line a baking sheet with parchment paper.
Unfold the pastry sheet on a lightly floured surface. Roll the sheet into a 10 x 10-inch square. Cut off the corners to make a 10-inch circle. Place the pastry circle on the prepared baking sheet. Reserve the pastry trimmings.
Cut the reserved pastry trimmings with a knife, making oval or spade-shaped leaves with stems. Using the back of the knife, score the pastry leaves to make "veins". Place the pastry leaves on the baking sheet.
Bake for 15 minutes or until the pastries are golden brown. Remove the pastries from the baking sheet and cool on a wire rack. Split the pastry circle into 2 layers.
Place the cream, granulated sugar, liqueur and vanilla in a medium bowl. Beat with an electric mixer on high speed until soft peaks form. Reserve 1/4 cup for garnish.
Spread half of the cream mixture on the bottom pastry layer. Top with 2 1/2 cups of the fruit, the remaining cream mixture and the remaining pastry layer. Garnish with the reserved cream, pastry leaves, remaining fruit and confectioners' sugar.
Tips
Recipe Note: Parchment paper keeps the pastry from sticking to the baking sheet and also makes for easier cleanup. If you don't have parchment paper, you can spray the baking sheet with cooking spray instead. However, cooking spray may cause the bottoms of the pastries to brown more quickly, so begin checking for doneness 5 minutes early.