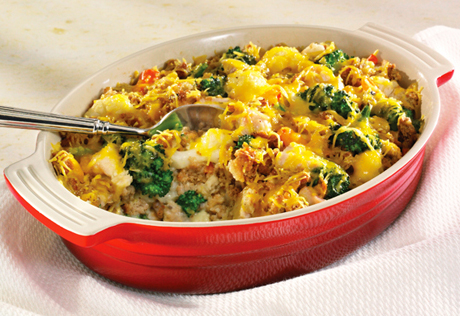 Ingredients & Directions
1 can (10 1/2 ounces) Campbell's® Condensed Cream of Mushroom Soup or (10 1/2 ounces) Campbell's® Condensed 98% Fat Free Cream of Mushroom Soup
1 cup milkor water
1 bag (16 ounces) frozen California vegetable blend (broccoli, cauliflower, carrots), thawed
2 cups cubed cooked turkey or chicken
4 cups Pepperidge Farm® Herb Seasoned Stuffing
1 cup Swiss cheese or Cheddar cheese (about 4 ounces)
Heat the oven to 400°F. Spray a 2-quart casserole with vegetable cooking spray.
Stir the soup and milk in a large bowl. Add the vegetables, turkey and stuffing and mix lightly. Spoon the turkey mixture into the casserole.
Bake for 20 minutes or until the turkey mixture is hot and bubbling. Stir the turkey mixture. Top with the cheese.
Bake for 5 minutes or until the cheese is melted.
Tips
Serving Suggestion: Serve with a salad of mixed greens, dried cranberries and walnuts with a Dijon mustard vinaigrette.  For dessert serve sliced pears drizzled with chocolate sauce.
Easy Substitution: Substitute 3 cans (4.5 ounces each) Swanson® Premium White Chunk Chicken Breast in Water, drained, for the cubed cooked turkey.