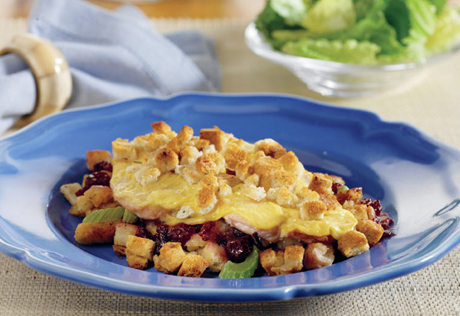 Ingredients & Directions
1 package (12 ounces) Pepperidge Farm® Herb Seasoned Cubed Stuffing
1/2 cup butter(1 stick)
1 stalk celery, chopped (about 1/2 cup)
1  medium onion, chopped (about 1/2 cup)
1.75 cups (Regular, Natural Goodness or Organic) Swanson® Chicken Broth
1 can  (16 ounces) whole berry cranberry sauce
2  pounds boneless, skinless turkey breast cutlet (8 cutlets)
1 can (10 1/2 ounces) Campbell's® Condensed Cream of Chicken Soup or (10 1/2 ounces) Campbell's® Condensed 98% Fat Free Cream of Chicken Soup
0.333 cup reduced fat (2%) milk
Place 1 cup stuffing into a gallon size resealable plastic bag.  Seal the bag and crush the stuffing with a rolling pin.
Heat the butter in a 4-quart saucepan over medium heat.  Add the celery and onion and cook until they're tender, stirring occasionally.  Stir in the broth and heat to a boil.  Remove the saucepan from the heat.  Add the remaining stuffing and mix lightly.
Spoon the stuffing mixture into a 3-quart shallow baking pan. Spoon the cranberry sauce over the stuffing mixture.  Top with the turkey.
Stir in the soup and milk in a small bowl until the mixture is smooth.  Pour the soup mixture over the turkey.  Sprinkle with the crushed stuffing.
Bake at 375°F. for 1 hour 5 minutes or until the turkey is cooked through.
Tips
Ingredient Note: If turkey cutlets are not available, purchase a whole turkey London broil (about 2 pounds) and cut into 8 cutlets.