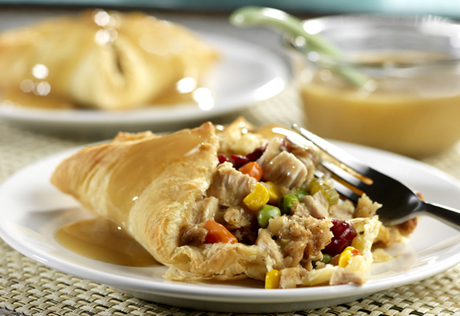 Ingredients & Directions
1 package (17.3 ounces) Pepperidge Farm® Puff Pastry Sheets, thawed
1 can (13.8 ounces) Campbell's® Turkey Gravy or 1 3/4 cups Swanson® Turkey Gravy
2 cups coarsely chopped cooked turkeyor chicken
1/2 cup cooked mixed vegetables (carrots, green beans, corn, peas)
2 cups prepared Pepperidge Farm® Herb Seasoned Stuffing, any variety
1/2 cup cranberry sauce
Heat the oven to 400°F.  Stir 1/2 cup gravy, the turkey and vegetables in a medium bowl.
Unfold 1 pastry sheet on a lightly floured surface.  Roll the pastry sheet into a 14-inch square.  Cut into 4 (7-inch) squares.  Repeat with the remaining pastry sheet, making 8 in all.
Place 1/4 cup stuffing in the center of each square.  Top with about 1/3 cup turkey mixture and 1 tablespoon cranberry sauce.  Brush the edges of the squares with water.  Fold the corners to the center over the filling and pinch the edges to seal.  Flute the edges, if desired.  Place the filled pastries onto the baking sheet.

Bake for 25 minutes or until the pastries are golden brown.  Remove the pastries from the baking sheet and let cool on wire racks for 10 minutes.
Heat the remaining gravy in a 1-quart saucepan over medium heat until hot and bubbling.  Serve the gravy with the pastries.