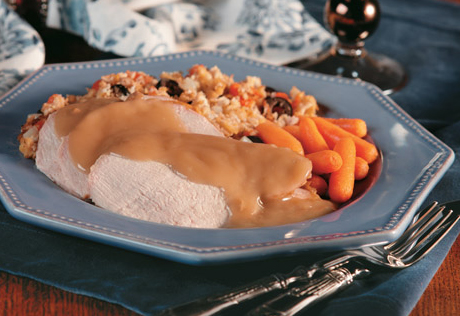 Ingredients & Directions
1/4 cup olive oil
3 medium onion, chopped (about 1 1/2 cups)
6 cloves garlic, minced
1 can (14.5 ounces) whole peeled tomatoes, cut up
1 can (10 1/2 ounces) Campbell's® Condensed Chicken Broth
8 ounces bag Pepperidge Farm® Herb Seasoned Stuffing
8 ounces bag Pepperidge Farm® Cornbread Stuffing
1/2 cup sliced, pitted black olives
1 whole turkey (about 14 pounds)
2 cans (13.8 ounces each) Campbell's® Turkey Gravy or 3 1/2 cups Swanson® Turkey Gravy
Heat the oil in a 12-inch skillet over medium heat.  Add the onions and garlic and cook until the onions are tender, stirring occasionally.  Stir in the tomatoes and broth and heat to a boil.  Remove the skillet from the heat.  Add the stuffing and olives, if desired, and mix lightly.
Remove the package of the giblets and neck from the turkey cavity.  Rinse the turkey with cold water and pat dry with a paper towel.  Spoon the stuffing mixture lightly into the neck and body cavities.*  Fold the loose skin over the stuffing.  Tie the ends of the drumsticks together.

Place the turkey, breast-side up, on a rack in a shallow roasting pan.  Brush the turkey with additional oil.  Season the turkey as desired.  Insert a meat thermometer into the thickest part of the meat, not touching the bone.
Roast at 325°F. for 4 1/2 to 5 hours or until the thermometer reads 165°F. and the drumstick moves easily, basting occasionally with the pan drippings (use an instant read thermometer to make sure the center of the stuffing reaches 165°F.).  Begin checking for doneness after 4 hours of roasting time.  Let the turkey stand for 10 minutes before slicing.
Heat the gravy in a 1-quart saucepan over medium-high heat until hot and bubbling.  Serve the gravy with the turkey and stuffing.

Tips
*Bake any remaining stuffing in a covered casserole with the turkey for 30 minutes or until the stuffing is hot.
Tip: Stir 1/4 cup pan drippings into the gravy.