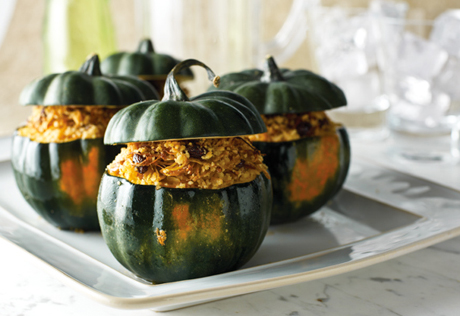 Ingredients & Directions
4.5  pounds spaghetti squash (about 3 squash 1 1/2 pounds each )
1/2 teaspoon ground black pepper
2 cups chopped pecans
1 cup raisins
1/4 cup  packed brown sugar
1 tablespoon pumpkin pie spice
8 acorn squash (about 1 pound each )
24 Pepperidge Farm® Golden Butter Distinctive Crackers, crushed (about 1 cup)
4 tablespoons butter(1/2 stick), melted
Heat the oven to 350°F.
Cut each spaghetti squash in half lengthwise. Scoop out and discard the seeds. Sprinkle the inside cavity of each squash with black pepper and place them cut-side down in a 17 x 11-inch roasting pan.
Bake for 45 minutes or until the squash is fork-tender.
Scrape the squash with a fork to separate the spaghetti-like strands and place the strands in a large bowl. Stir in the pecans, raisins, brown sugar and pumpkin pie spice.
Cut off the "tops" of the acorn squash, about 1 inch from the stem end and reserve. Scoop out the seeds and discard. Cut a small portion off the bottom of each squash to make a flat base. Place the squash shells in the roasting pan.
Spoon the spaghetti squash mixture evenly into the cavities of each acorn squash. Stir the cracker crumbs and  butter in a small bowl with a fork. Sprinkle the crumbs evenly over the squash mixture.
Bake for 45 minutes or until the mixture is heated through. Place the reserved squash tops on a baking sheet and bake for the last 5 minutes of baking time. Top each squash with an acorn top.