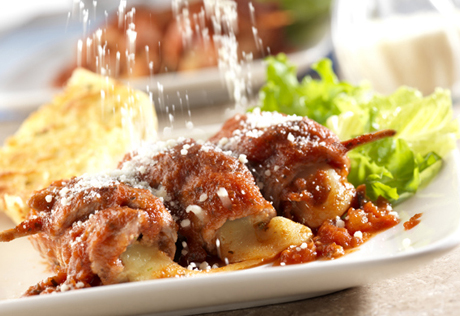 Ingredients & Directions
1/2 cup Italian seasoned bread crumbs
1/4 cup toasted pine nuts
6 slices prosciutto, cut into thirds
1.25 pounds veal scalloppine, cut into 18 pieces and pounded thin
1/4 pound mozzarella cheese, cut into matchstick-thin strips
1/4 cup olive oil
3 cups Prego® Traditional Italian Sauce or Prego® Heart Smart™ Traditional Italian Sauce
1 package (10 ounces) Pepperidge Farm® Mozzarella and Garlic Bread
to-taste Parmesan cheese(optional)
Heat the oven to 400°F.  Stir the bread crumbs and pine nuts in a small bowl.
Divide the prosciutto among the veal pieces.  Top each with 1 tablespoon bread crumb mixture.  Divide the cheese among the veal pieces.  Roll up the veal pieces around the filling.  Thread 3 veal rolls onto each of 6 (6-inch) skewers.
Heat the oil in a 12-inch skillet over medium heat.  Add the skewers and cook for 3 minutes on each side.  Pour the sauce over the skewers.  Reduce the heat to low.  Cook for 15 minutes or until the veal is cooked through.
Meanwhile, bake the bread according to the package directions.
Cut the bread into 2-inch diagonal slices.  Serve the bread with the veal and sauce.  Sprinkle with the Parmesan cheese, if desired.