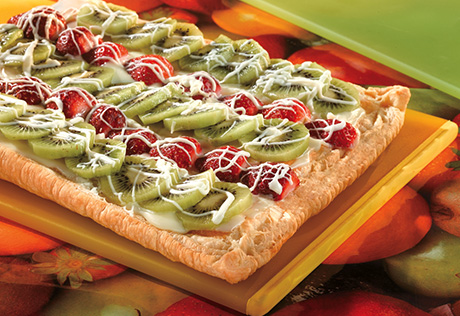 Ingredients & Directions
1/2 of a 17.3-ounce package Pepperidge Farm® Puff Pastry Sheets(1 sheet), thawed
7 squares (1 ounce each ) white chocolate
1/4 cup heavy cream
4 kiwi, peeled and sliced
10 medium strawberries, halved
Heat the oven to 400°F.
Unfold the pastry sheet on a lightly floured surface. Roll the pastry into a 14 x 10-inch rectangle. Place the rectangle on a baking sheet. Brush the edges of the rectangle with water. Fold over the edge 1/2 inch on all sides, pressing firmly to form a rim. Prick the pastry thoroughly with a fork. Bake for 15 minutes or until the pastry is golden brown. Remove the pastry from the baking sheet and cool on a wire rack.
Place 6 squares of chocolate and the cream in a small microwave-safe bowl. Microwave on HIGH for 2 minutes or until the chocolate is softened, stirring after 1 minute. Stir the chocolate until it's smooth. Spread the chocolate on the pastry. Arrange the kiwi slices and strawberries on top. Melt the remaining chocolate and drizzle it over the fruit. Refrigerate for 1 hour or until serving time. Cut the tart into 12 rectangles.
Tips
Flavor Variation: Chocolate-Dipped Fruit Tart: Pat sliced kiwi and strawberry halves dry using paper towels. Melt 6 squares of semi-sweet chocolate. Dip the fruit halfway into the melted chocolate, letting the excess chocolate drip off. Place the fruit on a waxed paper-lined baking sheet. Refrigerate for 30 minutes or until the chocolate is firm. Prepare the tart as directed, but arrange the chocolate-dipped fruit on the white chocolate layer. Drizzle with melted white chocolate as directed.