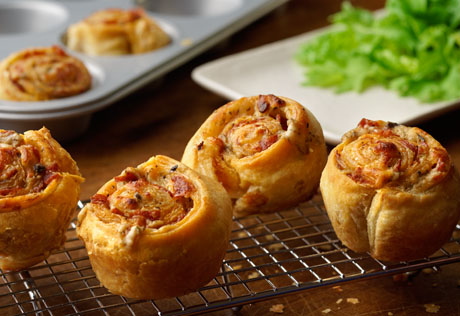 Ingredients & Directions
3 ounces pepperoni, roughly chopped
1 can (10 1/2 ounces) Campbell's® Condensed Cream of Mushroom Soup or (10 1/2 ounces) Campbell's® Condensed 98% Fat Free Cream of Mushroom Soup
1/2 cup grated Parmesan cheese
1 teaspoon dried oregano leaves, crushed
1/4 teaspoon crushed red pepper
2 tablespoons all-purpose flour
1 package (17.3 ounces) Pepperidge Farm® Puff Pastry Sheets, thawed
1/2 cup shredded mozzarella cheese(about 6 ounces)
Heat the oven to 400°F.  Lightly grease 12 (2 1/2-inch) muffin-pan cups.  Stir the pepperoni, soup, Parmesan cheese, oregano and red pepper in a medium bowl.
Sprinkle the flour on the work surface.  Unfold 1 pastry sheet and roll into an 11x16-inch rectangle.  Spread half the soup mixture on the pastry to within 1/2-inch of the edge.  Top with half the mozzarella cheese.  Starting at a short side, roll up like a jelly roll.  Repeat with the remaining pastry sheet.  Cut each pastry roll into 6 (1 1/2-inch) slices.  Place the slices, cut-side down, into the muffin-pan cups.
Bake for 18 minutes or until the minis are golden brown.  Let the minis cool in the pan on a wire rack for 5 minutes.  Remove the minis from the pan.
Tips
Serving Suggestion: Serve the minis with warm Prego® Italian Sauce for dipping.