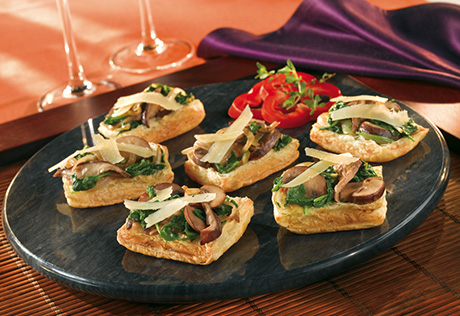 Ingredients & Directions
1/2 of a 17.3-ounce package Pepperidge Farm® Puff Pastry Sheets (1 sheet), thawed
2 tablespoons butter
4 cups assorted wild mushrooms (shiitake, cremini, oyster and/or button)
1 large onion, thinly sliced (about 1 cup)
2 cups baby arugula  leaves, coarsely chopped
1/4 teaspoon dried thyme, crushed
1/8 teaspoon ground black pepper
1 cup shaved Parmesan cheese
Heat the oven to 400°F.
Unfold the pastry sheet on a lightly floured surface.  Cut the pastry sheet into 3 strips along the fold marks.  Cut each strip into 4 rectangles, making 12 in all.  Place the pastry rectangles onto a baking sheet.
Bake for 15 minutes or until the pastries are golden brown.  Remove the pastries from the baking sheet and let cool on a wire rack for 10 minutes.  Split each pastry into 2 layers, making 24 in all.  Arrange the pastries, cut-side up, on a serving platter.
Heat the butter in a 10-inch skillet over medium heat.  Add the mushrooms and onion and cook for 5 minutes or until they're tender, stirring occasionally.  Stir in the arugula, thyme and black pepper and cook until the arugula is wilted, stirring occasionally.
Divide the mushroom mixture among the pastries.  Garnish with the cheese. Serve immediately.