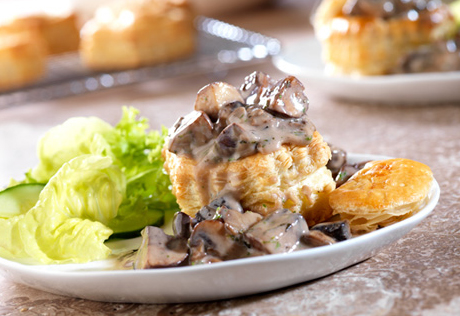 Ingredients & Directions
1 package (10 ounces)  Pepperidge Farm® Puff Pastry Shells, prepared according to package directions
3 tablespoons olive oil
6 cups assorted wild mushrooms(portobello, shiitake, oyster and/or cremini), cut into quarters
1 clove garlic, minced
2 tablespoons chopped fresh rosemary leaves
2 tablespoons chopped fresh thyme leaves
1/4 cup white wine
1/4 cup balsamic vinegar
1 can (10 1/2 ounces) Campbell's® Condensed Cream of Mushroom Soup or (10 1/2 ounces) Campbell's® Condensed 98% Fat Free Cream of Mushroom Soup
1/2 cup milk
1 tablespoon chopped fresh parsley
Prepare the pastry shells according to the package directions.
Heat the oil in a 10-inch skillet over medium-high heat.  Add the mushrooms, garlic, rosemary and thyme.  Cook until the mushrooms are tender, stirring often.
Stir the wine and vinegar in the skillet.  Cook until the liquid is reduced by half.  Stir in the soup and milk and heat to a boil.  Stir in the parsley.
Spoon the mushroom mixture into the pastry shells.  Serve immediately.