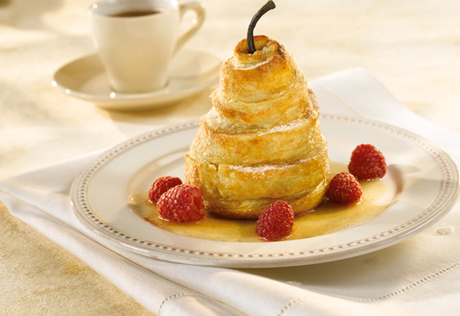 Ingredients & Directions
3 cups water
3/4 cup sugar
1/2 vanilla bean, split
4 Bartlett or Bosc pear, cored and peeled
1/2 cup heavy cream
1/2 of a 17.3-ounce package Pepperidge Farm® Puff Pastry Sheets(1 sheet), thawed
1 cup fresh raspberries
Heat the water, sugar and vanilla bean in a 2-quart saucepan over low heat until the sugar is dissolved, stirring occasionally.
Add the pears to the saucepan and cook for 10 minutes or until the pears are tender, turning occasionally.  Remove the pears from the saucepan.  Cover and refrigerate for 1 hour or until the pears are cold.  Leave the sugar mixture in the saucepan.
Stir the cream into the saucepan.  Cook over low heat for 20 minutes or until the mixture is reduced to about 3/4 cup, stirring often.  Remove the vanilla bean and scrape the seeds into the saucepan.  Remove the saucepan from the heat.
Heat the oven to 400°F.
Unfold the pastry sheet on a lightly floured surface.  Cut the pastry sheet crosswise into 8 (3/4-inch wide) strips. Brush the strips with water and sprinkle with additional sugar.
Press the ends of 2 pastry strips together. Starting at the top, wind 1 pastry strip around 1 pear, slightly overlapping the edges of the pastry and tucking the end under the pear.  Repeat with the remaining pears and pastry strips.  Place the wrapped pears onto a baking sheet.  Loosely cover the wrapped pears with aluminum foil.

Bake for 25 minutes or until the pastries are golden brown.  Spoon the vanilla sauce onto 4 plates.  Top each with 1 pear and garnish with the raspberries.
Tips
Tip: Use a melon baller to core the pears from the bottom and remove the seeds.  Peel the pears, leaving the stem intact.  You can also cut a thin slice from the bottom of each pear to help it stand upright.