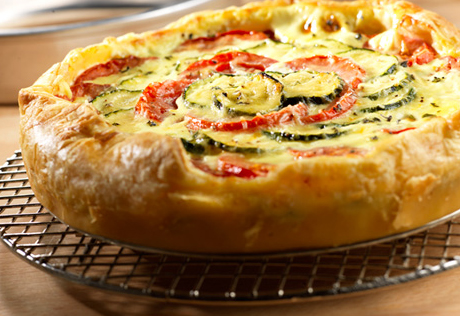 Ingredients & Directions
1/2 of a 17.3-ounce package Pepperidge Farm® Puff Pastry Sheets(1 sheet), thawed
1.5 cups shredded mozzarella cheese(about 6 ounces)
3/4 cup freshly grated Parmesan cheese
1/2 cup thinly sliced fresh basil leaves
2 medium green onion, chopped (about 1/4 cup)
1 tablespoon chopped fresh oregano leaves
2 small zucchini, sliced (about 2 cups)
3 Italian plum tomato, thinly sliced
2 egg
1 cup half and half
1/4 teaspoon ground black pepper
Heat the oven to 400°F.
Unfold the pastry sheet on a lightly floured surface.  Roll the pastry sheet into a 13-inch square.  Cut off the corners to make a circle.  Press the pastry into the bottom and up the sides of a 9-inch springform pan, leaving the excess pastry draped over the sides of the pan.
Layer the mozzarella cheese, 1/2 cup Parmesan cheese, basil, green onions and oregano in the pan.   Arrange the zucchini and tomatoes in concentric circles on top.
Beat the eggs, half-and-half and black pepper in a medium bowl with a fork or whisk.  Pour the egg mixture over the vegetables.  Sprinkle with the remaining Parmesan cheese.  Fold the excess pastry in over the filling.
Bake for 45 minutes or until set.  Let the tart cool in the pan on a wire rack for 20 minutes.